[short url]
Duo
Double Vision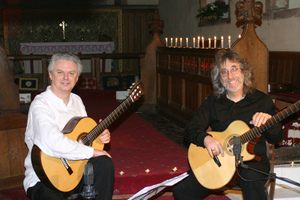 A chance meeting between
Raymond Burley and Gordon Giltrap
, followed by a brief 'jam' session, led to the duo
Double Vision..
Although initially the players were not certain that the mix of nylon and steel-strung guitars would blend sufficiently well, rehearsals and some very successful concerts - including The Purcell Room at London's South Bank Centre - helped to convince them that not only would it work well but that it was a partnership to which both musicians would be happy to devote a major amount of time.
The duo has been hailed as one of the most exciting guitar partnerships to emerge in recent years.
Early 2008 will see the release of the first DVD by
Double Vision
( Raymond and Gordon Giltrap )
"In Vision"
on the
Voiceprint
label. The filming took place in Lincolnshire, early in 2007 and a sample track,
"A Christmas Carol"
has been made available on YouTube.
DOUBLE VISION reviewed by Classical Guitar Magazine.
Gordon Giltrap and Raymond Burley
Voiceprint LCVP 158CD

Anyone who has doubts as to whether the amalgamation of nylon and steel string guitars and/or the partnership of a 'classically' trained musician with a supremely individual 'folk' artist would work, has only to listen to this glorious new recording from two players who are both widely recognised as being highly skilled individual performers in their own right.

A fortuitous encounter between Raymond Burley and Gordon Giltrap in 2001, followed by a brief jam session, eventually led to the duo partnership Double Vision and some very successful concerts, including the Purcell Room at London's South Bank Centre, persuaded them to carry on the collaboration, the result being the release of this, their first CD together.

Giltrap has been in the business for 35 years and the tracks on this album are representative of his output during that time, ranging from the late 60s with the intricate Fast Approaching through to the present day with the folky, highly catchy Maddie Goes West. Throughout, Burley has done a thoroughly magnificent job in writing the duo arrangements of these pieces - who would have thought the Giltrap classic Heartsong would have worked so well with another guitar part added? And their joint effort Ravensbourn has produced a wonderfully crafted work which stands alongside the best of them.

When reviewing two players of this standard it seems almost an insult to state how well they perform but there have been fusions of top musicians before which have simply not worked for some reason or another. I'm happy to report that Burley and Giltrap gel so well in this enterprise that it would seem they had been playing together much longer than just these few years.

This is a recording to savour and will surely satisfy classical and folk guitarists alike. Highly recommended.
Steve Marsh, Classical Guitar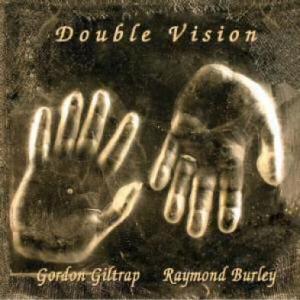 The Double Vision CD programme:
Maddie Goes West
The Racer
Ravensbourn
Under This Blue Sky
Sing a Song of Sixpence
Down the River
A Christmas Carol
The Picnic
The Passing of a Queen
Heartsong
Daisy Chain
Fast Approaching
Isabella's Wedding
Tailor Bird
From Total Guitar Magazine

It was my first opportunity to see the duo and my expectations were particularly high. Double Vision is a superb concept for an evening's entertainment. How to sum up the evening? That's difficult to do in the space that a review allows. There is no doubt there is something special about the interaction between two musicians who are masters of their instruments. It is clear is there is a musical chemistry existing between Burley and Giltrap that is rarely seen and heard. One can only hope that their busy schedules allow them to spend more time performing together.
Trevor Raggatt, 'Total Guitar' magazine (UK)
Raymond has transcribed a selection of Gordon´s music for solo classic guitar,
'Classic Giltrap'.
Click here
for more details.
In 2006 Raymond has published a selection of Gordon´s music for duo classic guitar,
'Double Vision'
.
Click here
for more details.
Raymond, Gordon, The Duchess of Kent, Mr Jeremy Irons after November 2005's concert in aid of the
Future Talent
charity founded by the Duchess.
Visit the Future Talent website
Click here
Visit Gordon's website:
Click here
Please see the files below for
Press Resources
relating to
Double Vision