Saturday, January 23, 2010
7.30pm 0
Reading, Berks
Raymond Burley and Debbie Haeck (guitar duo)
Wokingham Town Hall
Wokingham, Reading, Berks RG40 1AS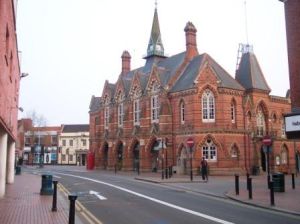 Wokingham Town Hall stands boldly at the heart of Wokingham. It is built on the site where a market was granted a charter by Henry III in 1227. Early records suggest there has been a Clock-house or Guildhall here since well before 1583 when Queen Elizabeth I granted the town a Charter.

The New Town Hall is Built 1858-1860

Although substantially renovated in 1819, the old Guildhall had become so dilapidated by 1857 that it was decided to demolish it and build a replacement, mainly as a courthouse and police station, but also with a Council Chamber, small covered market and rooms for reading and a savings bank.

A competition was held and the design, by the Reading architects Poulton & Woodman selected. The new Town Hall cost over £3,500 of which £2,000 was provided by the County Police Committee, £500 from Corporation members and the rest by public subscription. It was completed in 1860.

Built in Victorian gothic style, the Town Hall is a tribute to the skilled craftsmanship of the Reading builders, Wheeler & Woodroffe, and those who worked for them. From the outside it looks much the same as it did in the 1860s but the courtyard has been covered and a number of changes made to the internal structure. It is now a Grade II* listed building.

The Town Hall has always been available for community use when it was not needed for official business. Balls, dinners, concerts, lectures, displays, meetings, bazaars, sales and more recently weddings have been held in the Main Hall with the smaller rooms being used for meetings and smaller functions.




export this event to my calendar
Tweet