Saturday, November 27, 2010
7.30pm 0
Bracknell, Berkshire
Raymond Burley and Daniel Jones, Concert: Classical and Jazz
Ringmead, Bracknell, Berkshire RG12 7PA
phone: 01344 484123
click here to purchase tickets
website: www.southhillpark.org.uk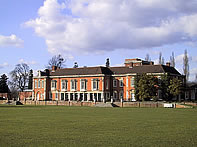 RAYMOND BURLEY AND DANIEL JONES
Masterclass: Classical and Jazz ( time to be confirmed ) plus concert at 7.30pm

In 2002, the Park completed a major programme of refurbishment. A successful application for £3million from the Arts Council of England National Lottery Board, partnered with £1million from Bracknell Forest Borough Council, has created an exciting development of the mansion buildings. The scheme has transformed the interior of the old building into a purpose built art space. A New Atrium opened up the heart of the building and provides an attractive meeting place, a restaurant and bar featuring art works and an informal performance space.

Please check availability of tickets and confirm date / start times with the organiser before setting out, as sometimes changes are unavoidable - thank you.


export this event to my calendar
Tweet