Saturday, March 5, 2011
time to be confirmed 0
Halifax, W. Yorkshire
4 Parts Guitar
10 Square Road, Halifax, W. Yorkshire HX1 1QG
phone: 01422 349 422
website: www.squarechapel.co.uk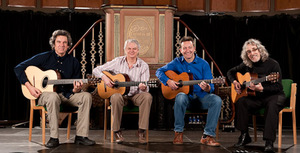 4 Parts Guitar are Gordon Giltrap, Raymond Burley, John Etheridge and Clive Carroll.

For those who would like to know more have a look at their various websites.
www.clivecarroll.co.uk
www.giltrap.co.uk
www.johnetheridge.com

One of the most remarkable buildings in West Yorkshire and the only remaining square church in Britain, Square Chapel was designed by Thomas Bradley and built in 1772.

Unbelievably for a building of such historic and architectural importance, it was allowed to fall into a sad state of disrepair. The home at various times to Sunday Schools, scout groups, football teams and its own orchestra, it was threatened with demolition.

In 1988, the Square Chapel Trust was formed to save the building and breathe new life into it. The Trust has been remarkably successful.

The building has been carefully and lovingly restored over the last ten years, with many of the features found in a thriving arts centre including an attractive bar. The sensitively renovated auditorium is spectacular, its perfect acoustic one of the finest anywhere in the country.


Please check availability of tickets and confirm date / start times with the organiser before setting out, as sometimes changes are unavoidable - thank you.



export this event to my calendar
Tweet