Sunday, October 31, 2010
7.15pm
Oxford
Ensemble Ox
South Parade, Oxford OX2 7NN
phone: 01993 700 332
website: www.thenorthwall.com/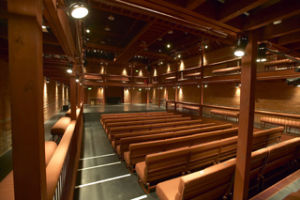 Ensemble OX performs works by Peter Maxwell Davies & Purcell

A unique and dazzling array of instruments is assembled for this powerful programme of music by two extraordinary English composers. Peter Maxwell Davies'sexquisite baroque and renaissance realisations of music byJS Bach, Purcell and Gesualdo are interspersed with songs by Purcell and solos for guitar, harpsichord and marimba.

In two short intervals members of the audience are invited to refill their glasses and to move seats, enjoying the visual and aural spectacle from different parts of the galleried theatre.

Ensemble OX is a flexible chamber ensemble formed two years ago to perform contemporary music by great composers. Its inventive concert programming takes inspiration from the Nash and Endymion Ensembles, while most of its players and singers live in Oxfordshire.

'Fast moving and delightfully informal . . . A refreshing concert' Giles Woodforde, Oxford Times.

Marion Ackrill (flutes), Keith Fairbairn (marimba/glockenspiel), Raymond Burley (guitar), Peter Ward Jones (harpsichord/brandy glass), Joanna Messner (cello), Peter Foster (clarinets), Matthew Coatsworth (viola), Carol Goodall (soprano), Judith Ellis (violin), David Clover (reader)

Tickets: adults £12, £8 concessions, 17yrs & under £4
(01993) 700 332 and at the door on the night

The North Wall is owned and managed by St Edward's School, an independent, co-educational boarding school which was founded in 1863 in the centre of Oxford, and moved to its present site in Summertown in 1873. A vigorous 15-year building programme then followed, during which all the Victorian buildings which you see today were completed. The last of these was an indoor swimming pool, which was completed in 1888.

After over a century of use, this pool became redundant when a new one was built on the school playing fields, and after it had served as a storeroom for a few years, the School Governors decided to develop the pool and adjoining buildings as a new arts centre. This decision was driven by David Christie (the Warden), the composer George Fenton (a Governor and former pupil of the School), and Anthony Kerr-Dineen, St Edward's Director of Cultural Activities. The London architects, Haworth Tompkins, were commissioned to design a building which would blend a Victorian listed building with modern architecture, and which would provide a theatre, drama and dance studios, and an art gallery.

The North Wall was opened for school use in September 2006, and was launched publicly in July 2007 with a three-week arts festival. It now runs a programme of arts events open to the public throughout the year, as well as providing an outstanding facility for the School and the local community.

Please check availability of tickets and confirm date / start times with the organiser before setting out, as sometimes changes are unavoidable - thank you.




export this event to my calendar
Tweet