Friday, March 14, 2014
7.45pm (doors 7.00pm) 0
Farncombe, Surrey
4 Parts Guitar
St John's Church, Farncombe, Surrey GU7 3EH
phone: 01483 421520
click here to purchase tickets
website: www.julianlewrymusic.com/concerts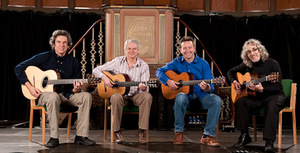 Farncombe Music Club concerts take place at St John's Church, Farncombe – www.farncombe.org.uk . St. John's Church was refurbished in 2012 and has wonderful acoustics and a unique atmosphere (described by some as like a small Union Chapel). It can hold up to 300 with about 250 in unreserved seating plus standing room. The more intimate St. John's Church Room has also been used for some concerts and can hold up to 150 in unreserved seating and/or with some standing.

Tickets Advance tickets are available as follows:

- in person from Record Corner in Pound Lane, Godalming – www.therecordcorner.co.uk
– no booking fee for cash or cheques, 50p per ticket for credit or debit cards.

- online from www.wegottickets.com/julianlewrymusic - subject to a modest 10% booking fee. £16.00 + £1.60 Booking fee = £17.60

- by phone on 01483 421520 – £1 per ticket booking fee for credit or debit cards

- by cheque made payable to Julian Lewry for the appropriate number of tickets (no booking fee) and send to: Julian Lewry, 6 Wood Road, Farncombe, Surrey GU7 3NN (please enclose an SAE or otherwise tickets will be held on the door for collection on the night)

- in person from myself at any of my concert promotions

N.B. Door prices are usually £3 higher than the advance prices.

Refreshments are served by a superb team of volunteers; beer, wine, tea and coffee, chocolate bars, crisps etc. are available in the Church Room from doors opening until the end of the interval. Sorry but no food or drink of any kind is allowed to be taken into the Church. Beer and wine may only be consumed in the Church Room and must not be taken outside.



Please check availability of tickets and confirm date / start times with the organiser before setting out, as sometimes changes are unavoidable - thank you.

export this event to my calendar
Tweet