Tuesday, July 22, 2014
8.00pm 0
Guernsey, Channel Islands
Gordon Giltrap and Raymond Burley (Double Vision)
College Street, St Peter Port, Guernsey, Channel Islands
phone: 01481 711361
website: www.stjames.gg/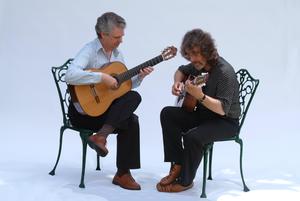 This exciting partnership between Gordon Giltrap and Raymond Burley allows both artists to experiment and continue to bring new dimensions to their performances.

Gordon and Raymond are equally well respected; each has been working in their chosen fields for nigh on forty years. Since their chance meeting at a national gathering of guitar teachers in 2001, the obvious chemistry between these two virtuosos has flourished. They immediately broke down any preconceived ideas about the collaboration between a classical musician and a rock musician.

Gordon is an outstanding and innovative steel string acoustic guitar player and composer, who has developed his own unique style of playing. With nearly 40 years in the music business, he has produced among other things, an impressive catalogue of music for TV. This includes the hit single "Heartsong" which was the theme for the BBC's Holiday Programme for many years, and was nominated for a prestigious Ivor Novello award. He was a principal player in Cliff Richard's musical "Heathcliff" writing two pieces for the show and appearing nightly as the Troubadour, a role which triggered a CD by the same name.

Raymond is a highly skilled classical guitarist who also performs solo, as part of the Rodrigo Guitar Trio, and has worked with many of the UK's finest orchestras. He has numerous recordings and radio appearances to his credit, and a track record of successful creative partnerships with some of the most respected names in the world of classical music. He has toured widely in the UK, Europe, USA and Canada.

Double Vision brings a fusion of these two genres. The sound of nylon strings combined with steel strings creates a sound quite like no other. With Raymond's classically inspired arrangements the music feels new and refreshing, taking Gordon's compositions to new heights.

The duo released their first CD "Double Vision" in 2005 which received glowing reviews from the likes of Classical Guitar Magazine.
"Wonderfully crafted work .... a recording to savour" Steve Marsh - Dec 2005



It was at a public meeting on 30 October 1815 that Admiral Sir James Saumarez, later Lord de Saumarez, conceived the idea of building St James.
The church was to provide a place of worship for the British garrison in Guernsey , where services could be held in English. At that time, services in the Town Church were held in French. The building was completed in 1818.

After a full life, which included its use as the Elizabeth College chapel for many years, the building finally became redundant in 1970 and fell into partial decay.

In 1981 The Friends of St James association was formed to achieve St James' restoration and then to administer the building as a concert and assembly hall. The States agreed to pay for this restoration in 1983 and the building was officially re-opened on 5 July 1985 by HRH the Duke of Kent.
Following intense fund raising the single storey tin-roofed annexe, built during the 1930's, was demolished and in 2002 the three storey Dorey Centre comprising meeting rooms, café and administration offices, was completed.

St James now provides the island with unique and versatile venue for concerts and events covering a broad range of tastes for both residents and visitors as well as the business community.


To book tickets, please visit or telephone the Box Office on Tel.711361 Mondays to Fridays 9.00 am - 2.00 pm or book online at www.guernseytickets.gg


Please check availability of tickets and confirm date / start times with the organiser before setting out, as sometimes changes are unavoidable - thank you.

export this event to my calendar
Tweet