Wednesday, July 23, 2014
8.00pm 0
Sark, Channel Islands
Raymond Burley and Gordon Giltrap (Double Vision)
The Island Hall
The Island Hall, Sark, Channel Islands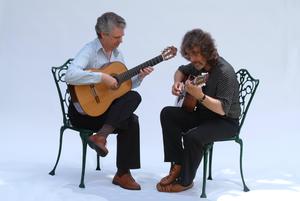 This exciting partnership between Gordon Giltrap and Raymond Burley allows both artists to experiment and continue to bring new dimensions to their performances.

Gordon and Raymond are equally well respected; each has been working in their chosen fields for nigh on forty years. Since their chance meeting at a national gathering of guitar teachers in 2001, the obvious chemistry between these two virtuosos has flourished. They immediately broke down any preconceived ideas about the collaboration between a classical musician and a rock musician.

Gordon is an outstanding and innovative steel string acoustic guitar player and composer, who has developed his own unique style of playing. With nearly 40 years in the music business, he has produced among other things, an impressive catalogue of music for TV. This includes the hit single "Heartsong" which was the theme for the BBC's Holiday Programme for many years, and was nominated for a prestigious Ivor Novello award. He was a principal player in Cliff Richard's musical "Heathcliff" writing two pieces for the show and appearing nightly as the Troubadour, a role which triggered a CD by the same name.

Raymond is a highly skilled classical guitarist who also performs solo, as part of the Rodrigo Guitar Trio, and has worked with many of the UK's finest orchestras. He has numerous recordings and radio appearances to his credit, and a track record of successful creative partnerships with some of the most respected names in the world of classical music. He has toured widely in the UK, Europe, USA and Canada.

Double Vision brings a fusion of these two genres. The sound of nylon strings combined with steel strings creates a sound quite like no other. With Raymond's classically inspired arrangements the music feels new and refreshing, taking Gordon's compositions to new heights.

The duo released their first CD "Double Vision" in 2005 which received glowing reviews from the likes of Classical Guitar Magazine.
"Wonderfully crafted work .... a recording to savour" Steve Marsh - Dec 2005



The island of Sark is arguably the least known and least visited of the Channel Islands. It is a romantic hideaway from the pressures of the modern world, and one of its charms is the lack of tourist infrastructure. The fact that the only means of transport is by foot, bicycle, tractor or horse and carriage, only serve to add to its overall appeal. Contrast it with the urban living on mainland Britain and it is a formula that will captivate anyone who sets foot on these shores. The Island was Europe's last sole surviving feudal state; with its constitution dating back to the Elizabethan period. The Island is three and a half miles in length and a mile and a half wide and actually comprises of two islands, Big Sark and Little Sark, which are joined by the thin isthmus "La Coupee". During the World War II period, Sark was occupied by the Germans and whilst under their command enhancements were made to the island itself, including some well engineered tunnels, which, to this day can be seen.. Sark has amazing topography with an average land height of only 250 feet above sea level. The flora can be dazzling in its diversity with spring showing off a host of blue and yellow flowers. Set against the secluded sandy beaches, huge cliffs, coves and caves, this is a channel destination without peers. For the Visitor there is a wide range of accommodation available, from award-winning hotels and restaurants, to self-catering and campsites.



Please check availability of tickets and confirm date / start times with the organiser before setting out, as sometimes changes are unavoidable - thank you.

export this event to my calendar
Tweet