Classical Guitar Playing Grade 8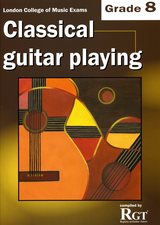 released 2008 Registry of Guitar Tutors
London College of Music: Classical Guitar Syllabus
Compiled by
Tony Skinner, Raymond Burley
and
Amanda Cook
.
For Guitar (Classical).
Methods: Classic.
Level: Advanced
Published by Registry of Guitar Tutors.
ISBN
9781905908189.
Valid for examinations from 1st August 2008 until Winter 2013.
Suitable for advanced level students, this handbook is the highest grade in a series of handbooks intended primarily for candidates considering taking the London College of Music examinations in classical guitar playing. However, even if you do not intend to take an examination, given the handbook's wide content of musical repertoire and extensive educational material, it provides an expertly structured, comprehensive resource for studying classical guitar.
This book will help you enhance your playing, enabling you to:


Develop all aspects of your playing and achieve your full potential as a guitarist.


Extend your musical repertoire - with pieces from a wide range of styles and periods.

Improve your sight reading and aural abilities - so that you can learn pieces more easily.

Increase your knowledge of music theory - and learn about the historical context of the pieces you're playing.

The handbook contains all the required Grade 8 pieces, scales, chords and arpeggios, as well as sections on musical knowledge, sight-reading and aural awareness - i.e. everything you need for this grade. Includes pieces by Scarlatti, Giuliani, Tarrega, Carulli, J.S. Bach and others.