[short url]
Technical Tips
Tips
This new section of the website is devoted to answering queries on technical matters plus links to websites of guitar makers, players, publishers, etc.
Moreno Torroba: Sonatina, Allegretto – pizzicato
During a recent class the subject how best to perform the 'pizz' passages in bars 21 and 22 of the opening movement (Allegretto) of Moreno Torroba's Sonatina cropped up. If the conventional pizzicato (or muffling) technique is used there is a danger of accidentally cutting short the values of the upper chords. My own method of execution for this passage is to use a light apoyando stroke with the pad of the right hand thumb immediately rocking the hand back damping the sound with the side of the thumb. To achieve the effect several times in succession, and at the required tempo, means maintained a loose wrist. Whether this effect was suggested by the composer or was Segovia's idea is not clear but when performed well it's extremely effective.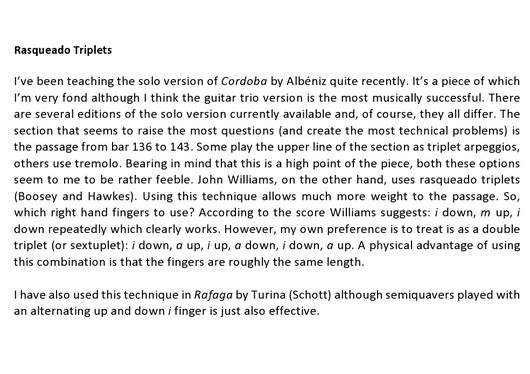 Bach: Prelude (from BWV 998)
A piece that crops up regularly in masterclasses, workshops and private lessons is the prelude from Bach's Prelude, Fugue and Allegro (BWV 998). Of all the pieces in the guitar repertory this one seems to receive the most varied interpretations. There are numerous editions of the piece on the market and on various websites and often they differ quite considerably chiefly with regard to suggested fingering.
What looks like a single voice melody above a simple bass line is in fact a much more complex multi-layered composition. With a new piece you might consider working out phrasing before planning fingerings, however there are few pieces where the fingerings dictate the phrasing and voicing more than this one. Take the first bar, for example, with no fingering suggestions there several possibilities: the majority of the upper notes could be played on the 1st string, slurs could also be used as in Segovia's edition (Schott). Notice in Example 1, shown here, that I have suggested a form of beaming revealing two voices - foreground and background.
Later in the piece (bars 30 - 32) there is another 'hidden' melody, this time it's created by the lower of the two voices, shown here in Example 2. Of course I'm not able to say this is what Bach intended but the implied harmonies certainly suggest it.
On the subject of fingering: on the third beat of bar 22 the stretch required to play the upper notes can make it tricky to sustain the bass note for its full value. If a diagonal barré is used (the tip of the finger on the C sharp and base of the same finger on G) you'll find the span is now perfectly possible. This is shown as Example 3.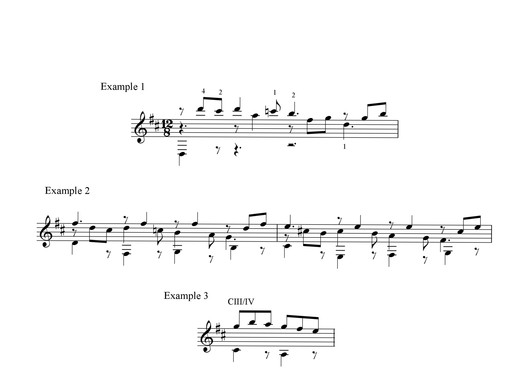 Scale Playing
A problem I've encountered at courses, summer schools and even during masterclasses concerns apoyando (rest stroke) scale playing, particularly when the scale is descending. A right hand finger will come to rest against a string and then the same finger is employed for the next stroke. In other words, finger alternation is interrupted. Often the player will not be aware of the situation until it's pointed out. A very effective exercise that will help to cure this problem is shown below.
Try playing Example 1 repeatedly with alternating i and m fingers. As you'll see, the exercise consists of groups of three notes played with two right hand fingers therefore each time the pattern is repeated the starting note will be played by a different finger: i the first time, m the second. Avoid the temptation to get back to the same starting finger for each group. Now try Example 2. This may prove to be a little trickier; the reason being that the notes now cross two strings, exactly as they will when playing a scale. Once this has been mastered try the same exercises with other finger combinations. I've found this to be very successful.
Pizzicato Stridente
Pizzicato stridente
is a term that appears at the beginning (and elsewhere) of Emilio Pujol's
Guajira
from the
Trios Morceaux Espanols
(Eschig) - a piece I recorded several years ago. A similar effect is used in Gilbert Biberian's
Prelude no.6 'Pierrot'
from the set of
24 Preludes, Book 1
, (Editions Orphée 43215); another piece I've recorded.
Standard p
izzicato
(or
étoufée
, meaning, in French, 'stifled') is where the strings are damped, or muffled, by the fleshy part of the right hand below the little finger. Many pieces in the guitar repertory use this effect, Leo Brouwer's popular
Cancion de Cuna
(Eschig) and
Campo
, the opening movement from Ponce's
Sonatina
Meridional
(Schott) being two examples. To achieve the
pizzicato stridente
effect, the action is similar but the right hand is moved a little closer to the soundhole allowing the plucked string to vibrate, or rattle, against the hand. Initially it may be difficult to judge the correct hand position but with a little trial and error it will become consistent. Unfortunately some players, both in recordings and in the concert hall, choose to ignore the direction and instead employ standard
pizzicato
, some play the notes
staccato
.
Cross-String Ornaments
The performance of cross-string ornaments is a huge subject and one that crops up quite frequently. These can be executed in a number of ways. If the two notes E (1st string) and D (2nd string) are employed repeatedly (as in a trill), they are grouped in fours - but without accents. The combination of right hand fingers is very much a matter of personal taste - I favour
a, i, m, p.
Experiment with different patterns to see which feels most natural. When practising your chosen sequence, it's important to begin playing slowly before building up to a suitable speed. The pattern I use can also be played as an open string arpeggio initially:
a
(on the first string),
i
(on the third string),
m
(on the second string) and
p
(on the 4th string) before transferring it to the required notes.
Mordents can also be executed in a slightly different way. If the notes D (2nd string), E (1st string), D are required, some players use fingers
i
and
a
, dragging the
a
finger back across the final D.
Over-simplifying perhaps, but with each ornament the aim should be to reach the final note as quickly, clearly and as evenly as possible, leaving the final note to sustain. As ornaments are governed by factors such as period, personal opinion, note values and tempo, it is impossible to even begin covering the many examples here.
Personally, I avoid cross-string ornaments in renaissance lute music and Bach's lute, violin or 'cello works, using them only when a linear ornament is not possible. For arrangements of keyboard music: Scarlatti, Cimarosa, etc., they are ideal. Wherever they appear, care must be taken to avoid them sounding unsubtle. However, one advantage of the cross-string ornament is that it is much easier to control dynamic variation during their execution.
Notating Harmonics
This is another subject that crops up regularly, particularly with regard to the works of Villa-Lobos. Unfortunately there is still no standard way of notating harmonics. Some composers (particularly non guitarists) tend to place a zero above or below the note-head. Others use a lozenge shaped note-head; others place '12 har.' - '7 har', etc. above the notes required.
The cadential fourths and chords in harmonics in
Schottish-Chôro
from
Suite Populaire Brésilienne
(Eschig) can be tricky to fathom. Those appearing in bar 16 are simple to perform when understood. Imagine the indicated notes were to be played as natural notes rather than harmonics. I use a third finger half barré for the F sharp and B, and first finger for the following E and A. For the chords in bar 15 of the central A Major section, use a similar procedure; imagine playing natural notes initially: the first chord (from the top) consisting of G natural - 5th fret on string 4, E - 7th fret on string 5, and G sharp - 4th fret on string 6. The second chord comprises A - 7th fret on string 4, C sharp - 4th fret on string 5, and A - 5th fret on string 6. The same chords also appear in the composer's
Gavotta-Chôro
(Eschig). Unfortunately it can be quite difficult to achieve clarity and uniformity of sound for each chord but moving the right hand a little closer to the bridge can help.
All the harmonics mentioned above are 'natural' - those found at certain points along an open string - 12th fret, 7th and 5th being the easiest to achieve. Harmonics at the 4th and 3rd frets are also possible, particularly on the lower tuned strings. Curiously 4th fret harmonics on each string can be duplicated at the 9th fret. Also, any harmonics found at points along the fingerboard can be recreated the other side of the 12th fret, over and beyond the soundhole. These, of course, are more difficult to locate as there are no frets to use for reference.
Artificial Harmonics
Natural harmonics will provide many note pitches but unfortunately not all - the note F being one example. Artificial harmonics require a different right hand technique. Begin by playing the 12th fret harmonic E on the 1st string but with the right hand alone. This is done by touching the harmonic point with the tip of the
i
finger (exactly over the fret) and plucking the string with the
a
finger. To produce the note F, a semitone higher, stop the note with a left hand finger as usual and touch the harmonic point with the tip of the
i
finger at the 13th fret. You can continue chromatically along the string using a similar procedure or, of course, move onto a different string. This effect is used in many pieces in the repertoire: Miguel Llobet's arrangement of the Catalan folk song
El Testament d'Amelia
and the second of Walton's
Five Bagatelles
, being two examples.
Lutoslawski: Harmonics
I've been gratified by the response to my arrangement of
Lutoslawski's
'Twelve Folk Melodies'. I understand several prominent players are in the process of learning the set, some with a view to recording all or a selection of the pieces. I too am considering adding the work to a forthcoming solo CD. Since the arrangement was published in 2009 by PWM in Poland (Lutoslawski's own publishing house) I have made one slight revision; this concerns the section involving harmonics in piece number 7, 'Master Michael', bars 21 - 24. As written, the harmonics are difficult to produce consistently. I have made the decision to locate them as shown in the following extract. The first of the two harmonics is natural, i.e. played at the 19th fret of the open 1st string. The second harmonic is played artificially - the required note A being under the already positioned 5th fret barré. In the extract the harmonics are shown at their sounding pitch.
[short url]
[short url]
Private Events
Book an Exclusive Private Performance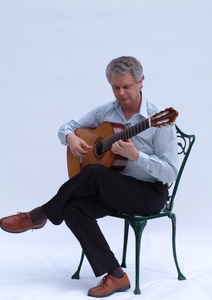 Raymond Burley - Exclusive Private Events

* Private parties *
* Concert recitals *
* Corporate Events *


Raymond welcomes opportunities to perform music in less formal settings and is available, by special arrangement, to play for exclusive private parties, recitals for soirées and corporate events. He is available to perform throughout the UK and abroad.

If required, Raymond is able to provide light amplification (all of which is PAT tested - an important safety requirement for many quality venues). He also carries Public Liability Insurance - a copy of the certificate is available on request. He is a member of the Musicians' Union.

An accomplished guitarist, his varied programmes (drawn from a wide repertoire, to suit different audiences and events) feature music from the renaissance to the present day, including Spanish and Latin American music. He is constantly adding to his repertoire with works from all periods. Please see the Specimen Programme page for details.

Raymond can tailor his performance to your requirements with the flexibility to create various moods: a sophisticated ambience for dinners, a relaxed style for low-key events or more rhythmic styles for a lively atmosphere. For private or corporate events his stylish and relaxing music can provide a sophisticated setting for guests without stifling conversation.

Raymond has extensive experience gained worldwide in performance, both singularly and in ensemble settings. He has performed at many prestigious venues including London's Wigmore Hall, Purcell Room and Symphony Hall in Birmingham as well smaller halls and at functions including weddings, Masonic functions, Valentine's Day, wedding anniversary celebrations etc.

Raymond's music will add a touch of class to any occasion; whether providing a gentle and entertaining musical background, or a full recital style performance, the classical guitar is perfect for many types of event.

Contact Sue Holton to discuss the event you are planning. Her details are on the Contact page.
[short url]
Instruments
New Roger Williams Guitar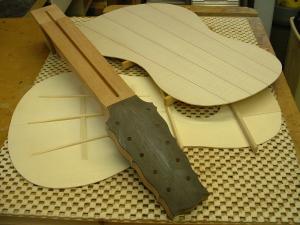 A Modern Baroque Guitar for Raymond Burley
by luthier
Roger Williams.
Three years ago Raymond entrusted the restoration of his beloved
1985 Martin Fleeson
guitar to me and was pleased with the new lease of life I had been able to restore in it. In 2006 I made a classical guitar for Ray to try and although it did not have quite the range and power he needed, he used it in concert for a few baroque pieces that its 'clarity of line' suited well. Raymond is a recognised expert on music from the baroque period; he is very modest about his knowledge, but I can assure you it is extensive, as I was to find out.
Early in 2007 Ray asked me if I would consider making him a baroque guitar. Interestingly, he wanted an instrument that looked and sounded like a five-course guitar but played like a classical guitar. It had to have a fingerboard of normal scale-length with metal frets, a bridge saddle, and tuning pegs. I realised that it also had to have a re-entrant tuning. So, prepared for a challenge, I accepted the commission and got down to research the initial design. The biggest hurdle was how to make the instrument sound like a baroque guitar.
We started with the strings, which is where any good maker should start; Ray did not want to use gut strings. A few years earlier I had restored a 19th century guitar and had been offered (by Gary Bridgewood of Bridgewood and Neitzert, in London) a new string from the Italian Aquila company made from a material called Nylgut - a modified form of nylon. I obtained a set and passed them on to Ray to try out. He liked the feel and sound so the decision was made. Now I was able to work out the string tensions involved and design the soundboard, bridge and neck. The body-shape evolved from study of guitars of the period; I eventually settled on a shape used by Antonio Stradivari, but 10% larger all round; this gave a reasonable compromise between the differing size of the baroque and classical guitar.
Re-entrant tuning means the strings are not arranged in pitch order: low to high. The reason for this type of tuning becomes clear when you study the original tablature, for the high 5th and 4th courses were used by composers to achieve what Gaspar Sanz referred to as campanellas (little bells), an effect where adjacent notes of scale passages are allowed to overlap.

There is also considerable debate about the pitch of the strings. The practical convention of the period being to tune the highest string (then gut, of course) as tight as possible and tune the other strings to it; although Ray's guitar is designed to be tuned to concert pitch at A = 440.
So that about wraps up three months of research and design. In the construction I used a master grade German spruce for the table, braced with three fan struts and two fine transverse bars, the back and sides are of flamed English sycamore, the back being of five-piece construction with ebony lines. The bindings are simple ebony and the rosette is burr English walnut with Brazilian rosewood taken from the headstock veneers. The neck is of Spanish cedar and the fingerboard African ebony. The tuning pegs, made by Bruce Brook, are English plum.
Raymond says of the guitar
"
Roger Williams
has done a fantastic job in producing this unorthodox instrument. As with everything he does, making or repairing, the workmanship is second to none. The guitar is a joy to play and the sound is exactly as I hoped it would be. Unfortunately as I have no option other than to play the instrument with right hand nails, I was a little concerned that this may create problems but thankfully this is not the case. I have been interested in the baroque guitar repertory for a good number of years and played a fair amount of it on the modern concert guitar. Unfortunately, bearing in mind the totally different tunings of the two instruments, this can only ever be a compromise. Thanks to Roger Williams I am now able to play the music as originally intended."
There is a gallery of photographs of this guitar
here
[short url]
Duo
Double Vision
A chance meeting between
Raymond Burley and Gordon Giltrap
, followed by a brief 'jam' session, led to the duo
Double Vision..
Although initially the players were not certain that the mix of nylon and steel-strung guitars would blend sufficiently well, rehearsals and some very successful concerts - including The Purcell Room at London's South Bank Centre - helped to convince them that not only would it work well but that it was a partnership to which both musicians would be happy to devote a major amount of time.
The duo has been hailed as one of the most exciting guitar partnerships to emerge in recent years.
Early 2008 will see the release of the first DVD by
Double Vision
( Raymond and Gordon Giltrap )
"In Vision"
on the
Voiceprint
label. The filming took place in Lincolnshire, early in 2007 and a sample track,
"A Christmas Carol"
has been made available on YouTube.
DOUBLE VISION reviewed by Classical Guitar Magazine.
Gordon Giltrap and Raymond Burley
Voiceprint LCVP 158CD

Anyone who has doubts as to whether the amalgamation of nylon and steel string guitars and/or the partnership of a 'classically' trained musician with a supremely individual 'folk' artist would work, has only to listen to this glorious new recording from two players who are both widely recognised as being highly skilled individual performers in their own right.

A fortuitous encounter between Raymond Burley and Gordon Giltrap in 2001, followed by a brief jam session, eventually led to the duo partnership Double Vision and some very successful concerts, including the Purcell Room at London's South Bank Centre, persuaded them to carry on the collaboration, the result being the release of this, their first CD together.

Giltrap has been in the business for 35 years and the tracks on this album are representative of his output during that time, ranging from the late 60s with the intricate Fast Approaching through to the present day with the folky, highly catchy Maddie Goes West. Throughout, Burley has done a thoroughly magnificent job in writing the duo arrangements of these pieces - who would have thought the Giltrap classic Heartsong would have worked so well with another guitar part added? And their joint effort Ravensbourn has produced a wonderfully crafted work which stands alongside the best of them.

When reviewing two players of this standard it seems almost an insult to state how well they perform but there have been fusions of top musicians before which have simply not worked for some reason or another. I'm happy to report that Burley and Giltrap gel so well in this enterprise that it would seem they had been playing together much longer than just these few years.

This is a recording to savour and will surely satisfy classical and folk guitarists alike. Highly recommended.
Steve Marsh, Classical Guitar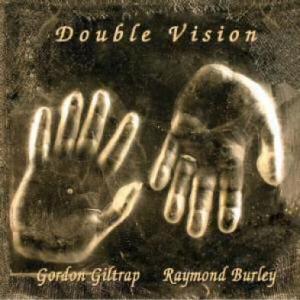 The Double Vision CD programme:
Maddie Goes West
The Racer
Ravensbourn
Under This Blue Sky
Sing a Song of Sixpence
Down the River
A Christmas Carol
The Picnic
The Passing of a Queen
Heartsong
Daisy Chain
Fast Approaching
Isabella's Wedding
Tailor Bird
From Total Guitar Magazine

It was my first opportunity to see the duo and my expectations were particularly high. Double Vision is a superb concept for an evening's entertainment. How to sum up the evening? That's difficult to do in the space that a review allows. There is no doubt there is something special about the interaction between two musicians who are masters of their instruments. It is clear is there is a musical chemistry existing between Burley and Giltrap that is rarely seen and heard. One can only hope that their busy schedules allow them to spend more time performing together.
Trevor Raggatt, 'Total Guitar' magazine (UK)
Raymond has transcribed a selection of Gordon´s music for solo classic guitar,
'Classic Giltrap'.
Click here
for more details.
In 2006 Raymond has published a selection of Gordon´s music for duo classic guitar,
'Double Vision'
.
Click here
for more details.
Raymond, Gordon, The Duchess of Kent, Mr Jeremy Irons after November 2005's concert in aid of the
Future Talent
charity founded by the Duchess.
Visit the Future Talent website
Click here
Visit Gordon's website:
Click here
Please see the files below for
Press Resources
relating to
Double Vision
[short url]
Instruments
Raymond's Guitars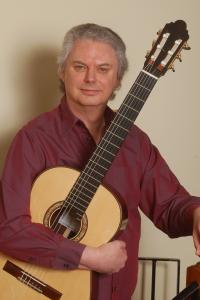 Like most professional guitarists Raymond has performed on instruments by a variety of makers, these include
Masaru Kohno, David Rubio, Nico van der Waals, Paul Fischer, José Romanillos, Bert Kwakkel, Martin Fleeson
and
Christopher Dean
.
He currently plays a guitar by the English maker
Philip Woodfield
.



"I can honestly say that my new Philip Woodfield lattice guitar comes as close to the perfect instrument as could be imagined. It has volume, is comfortable to play and the balance between bass and treble is exceptional.

The guitar has rich, resonant basses and clear, ringing trebles with bags of sustain. I will be using it for all my future concerts and recordings. It's a fine instrument."
Raymond Burley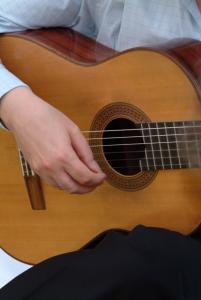 Raymond has also played a vihuela made for him by
Paul Fischer
.
He is currently having a five-course guitar built the Litchfield based maker
Roger Williams
.





Gary Nava is a maker that has produced a wide variety of stringed instruments including classical guitar, steel strung guitar, mandolin, mandocello and cittern.

Raymond has spent a fair amount of time playing one of the classical guitars and says of it: 'Gary Nava's classical guitars are beautifully made, responsive and with a well balanced sound. They are realistically priced and compare very favourably with much more expensive instruments'.

Gary can be reached via his website www.navaguitars.co.uk
UPDATE 5th May 2010
Raymond has just recieved a new guitar from the Sussex based maker
Philip Woodfield
. It's a beautifully made lattice-braced guitar with the name
'Kiri'
- after the Australian soprano
Dame Kiri de Kanawa
. After just two days playing the guitar is very powerful, beautifully balanced and very open. Who knows what it will be like when it's fully played in!
Raymond recommends
Miles Roberts' Kent Guitar Classics
for all guitar needs: guitars, guitar cases, strings and accessories.
Miles can be contacted via his website
www.kentguitarclassics.com
[short url]
Trio
Rodrigo Guitar Trio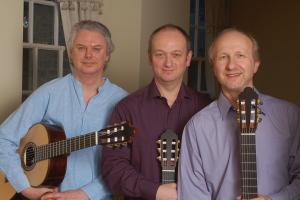 Formerly the
New Pro Arte Guitar Trio,
the
Rodrigo Guitar Trio
is recognised as one of the leading guitar ensembles in the UK.
The Rodrigo Guitar Trio members are
Raymond Burley
,
Cornelius Bruinsma
, and
Arne Brattland
Two highly acclaimed CDs for ASV (released under the name of the New Pro Arte Guitar Trio) -
America
and
Danzas Fantasticas
- feature unique arrangements of music by composers such as Albeniz, Granados, Turina, Gershwin and Bernstein. Shortly after it was released Danzas Fantasticas was Henry Kelly's 'CD of the Week' on Classic FM.
Cornelius Bruinsma studied at Colchester Institute where he took an honours degree in music; he went on to postgraduate studies at the Guildhall School of Music and Drama with Gerald Lee where he gained his Advanced Soloist Certificate and Licenciate diploma. Comelius is a founder member of the Pro Arte Guitar Trio and in this capacity he has recorded four CDs for ASV. He has toured extensively throughout the UK and Europe.
Arne Brattland is a Norwegian classical guitarist who studied at the Norwegian State Academy of Music in Oslo. His Norwegian debut was in 1983. Further studies in London led to an internationl debut at the Wigmore Hall in 1988. Arne has toured extensively in Scandinavia and Britain, and has also visited Poland, USA, Canada and Portugal to give concerts. He has issued three solo recordings and three trio CD's as well as his own publications of Grieg's Lyric Pieces for solo guitar, and has been a frequent guest at Norwgian radio and TV. He is a member of the Norwegian based Arctic Guitar Trio, and also performs in the Adamson-Brattland Duo with his wife.
The
Rodrigo Guitar Trio
has toured extensively throughout the UK, Europe and the USA.
The Trio's next US tour is in April 2009 with concerts in Virginia, Pennsylvania, Georgia and Indiana. For this tour
John Feeley
will be replacing Cornelius Bruinsma.
John Feeley is a classical guitarist and teacher from Ballinasloe, County Galway, Ireland. He is internationally renowned as a performer and teacher and he is regularly found performing and teaching around the world. John has won numerous awards,and is a particular champion of Contemporary Irish Music with many appearances and recordings to his credit. He has appeared as a soloist with The American Symphony Orchestra at Carnegie Hall, the National Symphony Orchestra of Ireland, the Ulster Orchestra, the Irish Chamber Orchestra and the Contempo Quartet. John is also Professor of Guitar at the DIT College of Music Dublin.
[short url]
Music
Concerto Repertoire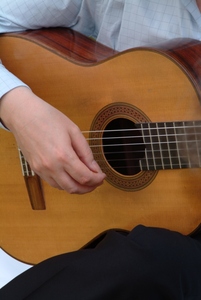 Malcolm ARNOLD .... Concerto
Serenade

Mario CASTELNUOVO-TEDESCO .... Concerto in D op.99

Stephen DODGSON .... Concerto no.1

Johann Friedrich FASCH .... Concerto in D

Mauro GIULIANI .... Concerto in A op.30

David GOW .... Concertino

Manuel PONCE .... Concerto del Sur

Joaquin RODRIGO .... Concierto de Aranjuez
Fantasia para un Gentilhombre

John SCOTT .... Concerto 'The Celtic Kingdoms'

Heitor VILLA-LOBOS .... Concerto

Antonio VIVALDI .... Concerto in D (RV 93)
Concerto in G (RV 532) with John Feeley
[short url]
Specimen Programmes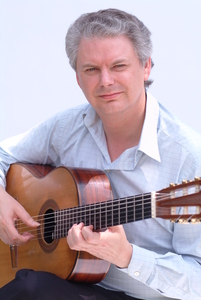 Mixed Solo Programme
A selection of arrangements and original compositions by a variety of composers, the content of which will alter frequently.
The Segovia Legacy
A programme featuring arrangements and original compositions by, or dedicated to, the Spanish guitarist Andrés Segovia (1893-1987) including works by Handel, Bach, Frescabaldi, Moreno-Torroba, Tansman, Segovia, Turina and Castelnuovo Tedesco.
The Music of South America
A selection of original works by Carlevaro, Gismonti, Ponce, Máximo Diego Pujol, Villa-Lobos, Brouwer, Lauro and Barrios.
The Music of Spain
A programme featuring arrangements and original works by Narvaez, Sanz, Sor, Albéniz, Falla, Emilio Pujol and Eduardo Sainz de la Maza.
The Contemporary Guitar
A programme of original works for the guitar by composers such as Falla, Berkeley, Lutoslawski, Biberian, Lauro, Brouwer, Britten and Theodorakis.
A Bach Recital
A selection of Suites, Sonatas and Partitas originally for violin, cello and lute arranged for guitar by Raymond Burley.
[short url]
Quartet
4 Parts Guitar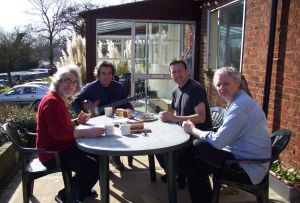 Update 4th Dec 09
It has just been confirmed that
Three Parts Guitar
is shortly to become
4 Parts Guitar
with the addition of the superb steel string guitarist
Clive Carroll
. The next tour will take place during the months of September and October 2010. A CD will be recorded in the spring. Tour dates and venues will be announced in due course.
A batch of 11 clips from the last
Three Parts Guitar
tour can now be found on
Youtube
. The concert took place in the beautiful Buxton Opera House in Buxton, Derbyshire on 30th September 2009. Below is a video of the Trio playing
Gordon Giltrap's 'Maddie Goes west'
To view the rest of the clips please visit
Ray Burley's YouTube Channel
Gordon Giltrap has graced the music business for more than 40 years with dedication to his craft and affection for his audiences. In the late 1970s he enjoyed a brief spell as a pop star with the hit single Heartsong. Over the years Gordon has worked with a broad range of artists such as Brian May, Midge Ure, Rick Wakeman, Martin Taylor and Cliff Richard. He has released 25 studio albums plus numerous live albums and compilations.
John Etheridge enjoys a glowing reputation in jazz and has been described by Pat Metheny as 'One of the best guitarists in the world'. He is equally at home on acoustic and electric guitar and is willing to engage, and excel, in many different musical styles. He has played with Stephane Grappelli, John Williams, Yehudi Menuhin, Barney Kessel, Dizzie Gillespie, Nigel Kennedy, Pat Metheny and the legendary jazz-fusion band Soft Machine.
Clive Carroll was described by Acoustic Guitar magazine as 'Probably the Best and Most Original Young Acoustic Guitar Player and Composer in Britain'. Born into a family of musicians in 1975, Clive has been immersed in a diverse range of music ever since. Between tours Clive has been involved in many other side projects: he is a visiting artist and tutor at the Irish World Music Centre in Limerick, he has been asked to play at events in the UK by celebrities ranging from film director Guy Ritchie to top-chef Jean-Christophe Novelli.
[short url]
Duo
Isis Duo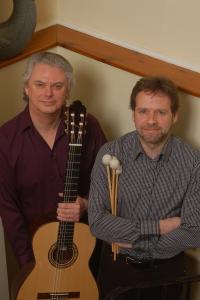 The Isis Duo
comprising
Raymond Burley
and
Keith Fairbairn
is currently exploring the repertory of music for guitar and tuned percussion.
The duo's programme features both original and arranged works by Bartok, Celso Machado, Piazzolla, Poulenc, Steve Reich, Rózsa, Falla and Paulo Bellinati.

Keith Fairbairn's career has involved a wide variety of musical situations; his first professional engagements - in the fields of both classical and the avante garde - were with major London orchestras and chamber ensembles such as the London Sinfonietta and London Symphony Orchestra.



From early in his career Keith became involved in studio work and was soon one of the very few 'first call' percussionists on the London session scene. In this capacity he has played on numerous TV shows, recordings and films, and was hired for for major tours. Some of the artists, conductors and composers to call on Keith's expertise include Mike Oldfield, Dionne Warwick, John Williams, Madonna, John Dankworth, Oliver Knussen, Richard Blackford, Graeme Revell, Alice Cooper, and the London Jazz Percussion Ensemble.

Keith is now mainly involved in solo performances and recordings, chamber and duo ensembles. He is anxious to promote the role of the marimba, vibraphone and multi-percussion instruments in contemporary settings. Keith plays a custom-built DeMorrow marimba and Musser vibraphone.

Keith Fairbairn has a new website: www.keithfairbairn.co.uk
THE ISIS DUO: RAYMOND BURLEY
(guitar) and
KEITH FAIRBAIRN
(marimba/percussion)
Holywell Music Room, Oxford
1st March 2008
Raymond Burley's solo guitar work is already well recorded and he has performed with many ensembles. His latest collaboration is with percussionist Keith Fairbairn who has worked with major London orchestras including the London Symphony and the London Sinfonietta. He has also worked with John Williams, Mike Oldfield, Dionne Warwick, John Dankworth, Madonna and the London Jazz Percussion Ensemble, and is busy as a first call percussionist.
Oxford's Holywell Music Room immediately impresses with the acoustic generated by its high roofed ceiling. A handclap brings around two seconds of reverberation. The hall, paid for by public subscription, was opened in 1748 as the first purpose built concert hall in the world.
From the outset it's important to imagine the sheer wall of sound generated by the marimba, covering a massive breadth of timbres and complexity of sound. Ray was using a small amount of sound reinforcement but was clearly audible acoustically and the balance between the instruments was spot on. Keith was hurtling to and fro most of the night behind his marimba (which had been freshly minted in the USA and delivered a few days previously). The opener, Gaspar Sanz's Canarios, saw Ray setting a brisk pace with Keith sitting alongside him on tambourine. Keith's touch was subtle with syncopated sympathetic accents, well controlled yet displaying elements of improvisation. A simple and effective start that was received very well by an audience that increasingly warmed to the performers' unpretentious style.
Partie Polonaise by Telemann followed and here the full range of sound from the instruments really kicked into gear with harmonic complexities and central motifs clearly articulated within a sense of purpose and forward movement. The audience appreciation for this was loud and long.
In each half Ray and Keith performed solos with Ray producing three classics namely; Gordon Giltrap's The Long Road Home, Falla's Homenaje and Andante from Bach's second violin sonata (BWV 1003). The pieces were performed with focus and sensitivity with a member of the audience clearly moved to tears by the Falla. The Holywell's acoustic is truly supportive to the solo guitar, with every note creating an ambience of the highest quality yet leaving semitones fully accessible in busier passages.
Keith's return to the stage saw them launch into Café 1930 by Piazzola and the atmosphere was transformed immediately by their dramatic interpretation of the piece. Bartok's Romanian Dances are cleverly written and sounded quite astounding and whilst musically quirky at times, the duo continued to phrase their parts accurately thus retaining cohesion and left for the interval having created a memorable first set.
The second half started with Imagens Do Nordeste by Celso Machado, the Brazilian guitar virtuoso and percussionist, with a piece reflecting the music and countryside of North-East Brazil. Originally for two guitars, the complex rhythms were firmly nailed and Machado's vibrant and in-the-moment writing was a great opener. Following was Poulenc's Suite Française, creating contrast on every level. Bringing out the thread of inspired lunacy that sits within Poulenc's music, it was very listenable and the following Leo Brouwer Micro Piezas were a tour de force.
Keith's first solo was Michi by Keiko Abe and was inspirational. The visual effect was mesmerising and the powerful movements of the piece were galvanising. This was a high point in a brilliant concert and Keith richly deserved the extensive appreciation of the audience. The second solo, Nancy by Emmanuel Sejourne, was sensitively played and transported the concert into its finale, Kaleidoscope by Miklós Rózsa, which completed a pleasingly long concert to tumultuous acclaim. The encore was a sweet arrangement of Lennon and McCartney's Penny Lane and was equally well received.
The two musicians were in obvious musical rapport throughout the concert and the audience were drawn in effortlessly by the fabulous sound and the brilliant interplay of instruments that are seldom seen and heard together.
Warwick Mason
[short url]
English Guitar Duo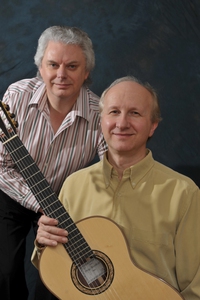 The
English Guitar Duo
is a new collaboration between the two experienced guitarists
Raymond Burley
and
Arne Brattland
.
They have previously worked together in various ensemble projects such as the
London Guitar Orchestra
,
Omega Players
,
Lyric Guitar Trio
and the
Rodrigo Guitar Trio
(formerly the
New Pro Arte Guitar Trio
), some of them resulting in acclaimed CD recordings.
The English Guitar Duo is exploring a wide range of repertory, including their own arrangements of music by
Albeniz
,
Granados
and
Grieg
. As a duo they have so far given concerts around the UK, including guest recitals at several guitar events. They are featured in the memorial DVD to composer
John Duarte
and are currently preparing a new CD recording.
Arne Brattland was born in northern Norway. He studied guitar at the Norwegian State Academy of Music in Oslo and later studied privately for several years in London. Since his international debut in 1988 he has performed in many parts of the world. He has issued several CD recordings and he is known particularly for his guitar arrangements and interpretations of Edvard Grieg's Lyric Pieces written originally for piano. Arne Brattland is an active chamber musician and currently works in several different ensembles including the Rodrigo Guitar Trio, Arctic Guitar Trio and in a duo with Swedish oboist Helen Rosing.
[short url]
Raymond Burley and Chris Britton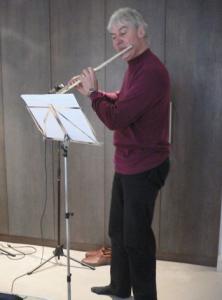 Raymond will be shortly be getting back together with flautist
Chris Britton
, this time to record an all Bach CD.
The programme will include new arrangements of BWV 997, 1033 and 817.
Chris Britton was born in London and studied flute and bassoon at the Royal College of Music, London before graduating in music and German at Birmingham University. Since then he has worked as a freelance orchestral flautist, including with the BBC. His teachers have included Graham Mayger, Delia Ruhm, Peter Lloyd and Atara Ben-Tovim, and (in masterclasses) James Galway, Susan Milan, Philippa Davies, Judith Hall and Peter-Lukas Graf. Chris has lived in Oxford since 1983.

He has long been a fan of the music of J.S. Bach and has performed all his works for flute (sonatas, suites, Brandenburg Concertos, obligato arias such as in the B minor Mass), as well as his keyboard music. He is about to release a CD of music for solo flute by Bach, most of which has been arranged by Chris from works originally for violin and keyboard. His forthcoming recording with Raymond Burley will also comprise arrangements by both artists.