ABRSM 2009 Syllabus CD Grade 7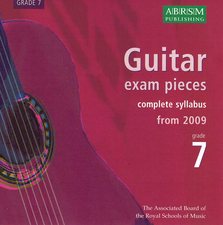 released 2009
2.
J. S. BACH Menuets I and II
3.
MILAN Fantasia del quarto tono
4.
NARVAEZ Diferencias sobre 'Guardame las vacas'
6.
D. SCARLATTI Sonata in E minor
7.
D. SCARLATTI Sonata in A
9.
S. L. WEISS Rondeau in A minor
10.
S. L. WEISS Bourree in C
11.
CARCASSI Etude in A minor
14.
DIABELLI Andante sostenuto
16.
GIULIANI Tempo di Marcia
17.
MATIEGKA Menuett and Trio in G
Guitarists: Raymond Burley, Carl Herring, Milos Karadaglic

This Cd covers the complete list of pieces for Grade 7 in the 2009 Associated Board of the Royal Schools of Music guitar examination syllabus.

CDs for Grades 1 to 6, 8 are also available.

The complete series can be obtained from the Spanish Guitar Centre in Nottingham.