The Long Road Home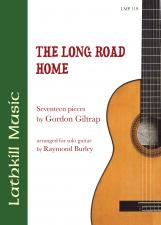 released 2007 UK: Lathkill Publications LMP119
Available from:

1.
A Misunderstood Man / Be With Me Always
12.
Who Knows Where Tomorrow Goes
17.
For Those Who Bring Sunshine
Classical guitarist
Raymond Burley
has released a book and CD both called
'The Long Road Home'
consisting of 17 pieces by
Gordon Giltrap
arranged for solo guitar .
His partnership with Gordon, as one half of the duo
Double Vision
, has given him a classic insight into Gordon's music and has made him the ideal candidate for this unique 'project' of offering these compositions in 'classical' arrangements (presented in 'standard' tuning with the occasional dropped D).
Giltrap's incredible facility on the guitar (albeit not usually the classical one) has resulted in many albums worth of wonderful music over the decades. It is only very recently however that he has begun getting them all down on paper with the help of classical guitarist Raymond Burley.

Here are 17 such pieces, aimed at the intermediate players amongst you. They all fit admirably well onto the classical guitar, and although exactly what arranging has been done by Burley is impossible to tell as the preface doesn't elucidate any further. I wonder whether a few pieces were perhaps in other tunings and might have had to be placed into the normal classical tuning, not that they feel unnatural on our guitar, far from it. They flow wonderfully and naturally from one idea to another, so there is no sense of 'arranging' resulting in an un-guitaristic piece.

Typical of Giltrap's style is Secret Valentine, where a piece begins in G Major with an amiable arpeggio idea before reiterating in the higher key of A, and taking the musical ideas still further into E Major before returning to A Major for a brief resume of the main idea. You often find yourself, therefore, going from one idea into the next without any development of the themes, which can make for a great piece, and sometimes can sound a little formless, although that is nit-picking to a certain extent.

There are a number of interestingly written pieces here, including a fabulous Rainbow Kites, a renaissance-styled The Lord's Seat, a frantically whirling From The Four Winds, and a very charming Daisy Chain to name but four. Moreover there are plenty of the Giltrap hammer-ons and pull-offs, often following one after the other, in a fashion destined to catch out the unprepared.

Of course in a volume as large as this, one or two of the pieces don't work as well as others, but that is only to be expected. It is superbly printed, and full of lots of pleasant and diverting guitar music. Any Giltrap fans need not fear, for this book is going to go down very well with you. Nicely done.
Chris Dumigan, Classical Guitar magazine
STAFFORD GUITAR CENTRE website
THE LONG ROAD HOME

I was uncertain about this book when I first skimmed through and I now put this down to a lack of understanding of the style and the way that it needs to be played, having no previous experience of the music.

Each time I play through the book I find another piece that I love and that communicates new pictures and emotions to me.

There many technical challenges in the pieces especially, I think, for very 'classical' players like myself. For example, he uses quick multiple slurs that require relaxation and freedom of left hand movement. The sound of individual notes is not important, rather the overall flow and direction of the musical line. There is a lot of left hand movement around the fingerboard that requires agility but again I would say that relaxation and a rhythmic feel are foremost.

The harmony is much more interesting, unusual and surprising than I expected and as I played I found that the overall feel had to be improvisatory and free within the rhythmic structure of the piece. That sounded a bit too technical so let me see if I can put it more simply! The pieces all have a strong rhythmic framework but the notes need to sound free and flexible around this. So if you can play without technical worry (even if the notes are not all correct) you will get much more enjoyment from the music.

The book is a very well set out and clear edition and there are a lot of fingering suggestions, mostly barres and positions, that are helpful and only written once! Remember not to feel restricted to fingering as everybody's hands work differently and your hands need to flow naturally with the music.

There is a noticeable absence of dynamic and musical markings apart from well-chosen words at the beginning of each piece such as 'lazily', 'stately' and 'lively', and I think that is a key to how to music should be played. It is all about interpretation; looking at the title and general speed/musical instruction and then listening to the music and getting 'caught up' in its story! You can then write in your own phrasing, dynamics, articulation, etc., or let the music unfold differently each time you play.

There are many contrasts in mood between these 17 pieces and some testing counting and time signature changes. The calm, peace and space of the first piece 'The Long Road Home', provide a wonderful opening to the book. It is not too difficult and allows you to practice listening and experimenting – a great introduction to the style. My other favourites include 'Kaz' with its lazy, low harmonies and melodic line; the stately 'The Lord's Seat'; 'London', which has a slow wistful feel; 'For Those Who Bring Sunshine', which is lively and hopeful; the exuberance of 'Fell Runner' and finally 'A Christmas Carol' – a slow and reflective piece with fantastic harmony and lovely delicate touches to the melody. The highlight for me is probably 'A Misunderstood Man', a piece that took me longer to appreciate with its slow, ever changing melodies but in which I now find new lines, feelings and pictures every time I play.

This volume of 17 pieces has taught me a lot about interpretation and freedom in performance and I know that this will benefit my technique, playing and performance in general.

Selina Madeley