Latest News
Urchfont Weekend Nov 09
Tuesday, November 17, 2009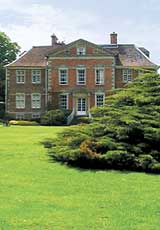 The weekend of 13th - 15th Nov 09 saw another very successful guitar course in the wonderful setting of
Urchfont Manor
in the picturesque village of Urchfont, near Devizes in Wiltshire. The course was full with just two new faces and lots of regular participants. The chosen large group music is always varied; this time we performed my arrangement of
Handel's Concerto Grosso op.6, no.1
(a substantial work in five movements) and Arne Brattland's very effective arrangement of
Vocalise
by Rachmaninoff.
Smaller ensembles prepared a wide variety of items in a very short time, many of which were featured in the Sunday morning Student Concert. Following the Saturday evening meal
Arne Brattland
and I gave a duo concert of works by
Gismonti, Telemann, Albeniz, Mertz and Granados
. After a short breather we all launched into the traditional 'Pop Orchestra' where we sight-read through a variety of arrangements of well-known pop standards.
I'd like to take this opportunity to thank the students for their contributions - very greatly appreciated.
The March 2010 Urchfont course is already fully booked although there is a waiting list in operation in case of cancellations.
For more information about future courses please
Click here