Latest News
Second Course at Missenden Abbey
Monday, May 27, 2013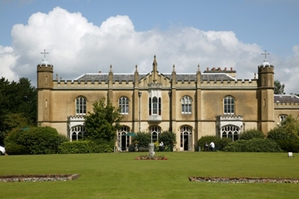 17th - 19th May 2013 saw the second weekend guitar course in the sumptuous surroundings of Missenden Abbey in Buckinghamshire.

The participants were all competent and experienced players ensuring a good standard of ensemble was achieved very quickly. The large ensemble pieces tackled this time were my arrangements of works by Claude Gervaise, Poulenc (after Gervaise) and Arne Brattland. 'Four Dances' by Claude Gervaise were performed with parts swapping between players. Poulenc's challenging seven-movement 'Suite Francaise' - based on dances by Gervaise - proved to be very popular with the players who, after just a few attempts, were producing a very creditable performance. Arne Brattland's lovely 'September Song' also fared well. The piece was written originally as a guitar duo but works extremely well arranged in five parts - with the composer's approval, I should add.

Following the evening meal on Saturday we lauched into the traditional Pop Orchestra, reading through a variety of standards such as Tony Hatch's 'Downtown', Eric Clapton's 'Wonderful Tonight', Lennon and McCartney's 'Hey Jude' and Sting's 'Every Breath You Take'. We could have gone on all night but at just after 10 pm decided to call it a day.

The Sunday morning Student Concert just before lunch included the three large ensembles plus a variety of smaller ensembles and solos.

As always I would like to thank the participants for their talents and enthusiasm - it would be lovely to see some, or all, of them again at future events. The staff at Missenden Abbey should also be thanked for helping the weekend to run smoothly.

The next courses at Missenden Abbey will be 12th - 14th August 2013 and 7th - 9th February 2014.