Latest News
Salvador and Burley
Thursday, July 25, 2013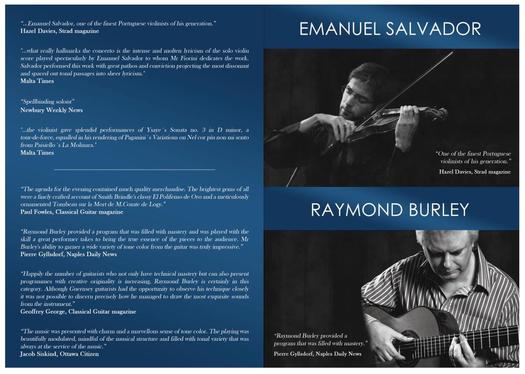 I'm very happy to report that my duo with the Portuguese virtuoso violinist
Emanuel Salvador
will be performing again next year in festivals in Portugal; concerts in the UK are planned also. We will be recording a CD in Poland in the near future.
It's quite unusual for two players, never having met previously, to bond so well musically and so quickly. In rehearsal, right from the opening few bars of the first piece it was clear that the project was going to work - and work very well.
Our programme this year included Bartok: 'Romanian Dances', Giuliani's op.85: 'Grand Sonata', Paganini: 'Cantabile', Saint-Saens: Introduction and Rondo Capriccioso', Gismonti: 'Agua y Vinho' and Piazzolla's: 'Histoire du Tango'. In the St Michael and the North Gate Church concert in Oxford I gave the first performance of the Chipping Norton based composer Raymond Head's solo guitar piece 'Pensiero'.
There's no doubt the most challenging piece in the programme for me was the Saint-Saens - not to play but to arrange. There were times when I doubted it would work but with some tweaking it became a very effective part of the programme. Thankfully I was able to use Bizet's piano reduction of the orchestral score as the basis for my guitar arrangement. This may well appear on the CD.