Latest News
Double Vision DVD - 'In Vision' - Out Now
Monday, April 21, 2008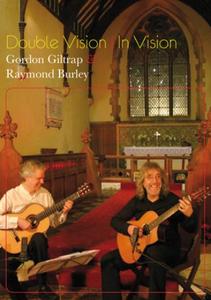 NEW DVD RELEASE BY DOUBLE VISION - 'IN VISION'
Double Vision - In Vision
is a DVD that captures two specially filmed performances of
Gordon Giltrap
and
Raymond Burley
. Although both artists have completely different styles they manage to blend both styles together effortlessly in two intimate performances filmed in late 2006 at Stickford Church and Fulston Manor.
Having already recorded an album together in 2004 entitled
Double Vision
the next logical step was to film these two wonderful artists in concert and two specially arranged concerts were set up in late 2006. Both performances feature the two musicians bringing out the best in each other in this rare coupling.
As Gordon Giltrap's and Raymond Burley's schedules rarely allow them the opportunity to play together this DVD will be seen as the next best thing to actually experiencing a live concert.
Click either arrow twice to play the video ( please remember this is a low resolution sample and not representative of the actual DVD quality )
The DVD contains both concerts in full and also an interview feature entitled
Meet Ray and Gordon
.
The DVD is available now from
Voiceprint
and orders are now being taken on the dedicated micro website which also includes the low resolution sample of the DVD
For more details and to place an order please go to:

Double Vision DVD Orders
UPDATE - 17th August 2008
DVD Review from
Classic Rock Society
magazine (August / September 2008)
Gordon Giltrap and Raymond Burley -
Double Vision – In Vision
(Voiceprint)
Two very different acoustic guitarists combine wonderfully on this recording. The folky idiosyncratic Gordon Giltrap performs with the more classically measured Raymond Burley to create music that is both intriguing and intimate. Recorded live in two venues in late 2006, the pair make the music seem almost effortless. The first recording at Stickford Church finds the musicians playing in an empty church without an audience. It is well filmed and recorded, and you can tell that in spite of the intensity it was a highly enjoyable experience for them both. At Fulston Manor they play pretty much the same material before a receptive audience, including Maddie Goes West, Isabella's Wedding and Down the River. Due to the size of the venue the pictures are a little claustrophobic at times, although well recorded both visually and aurally so it does not spoil the atmosphere. This is a pretty rare event too, as the busy schedules of the pair make live dates highly unlikely. A very enjoyable release.
Bernard Law
UPDATE - 23rd June 2008
This great review was spotted online at the
Bolton News
website:
DVD Review.
Double Vision - In Vision By
Martin Hutchinson.
Double Vision is in fact the pairing of two of the greatest guitarists around today - Gordon Giltrap and Raymond Burley.
Despite the fact that these two have completely different styles of playing (Gordon uses a pick and his little finger whilst Raymond just uses his fingers to play), they blend together perfectly.
Double Vision is actually the title of the album they recorded together in 2004, yet because of their hectic schedules it took until late 2006 for them to come together to play live.
There are two intimate concerts here, one recorded at Stickford Church and the other at Fulston Manor. Both concerts have generally the same tracks, and are a complete joy to listen to - and to watch the masters at work is an education. Tracks such as 'Down The River', 'Isabella's Wedding' and 'Maddie Goes West' show just what magicians of music this pair is.
A bonus feature of an interview with both players is an interesting addition to the disc.
Nothing is more beautiful than the sound of the guitar…. save perhaps two"
F.Chopin