003: RAVEL: Pavane pour une Infante Défunte (6 Guitars)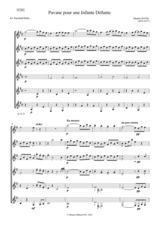 released 2016 Mosaic Editions




You can view a music sample by clicking on the PDF icon after.






Please click the link HERE and use the contact form to send us your details.
PLEASE STATE TITLE(S) OF MUSIC REQUIRED.
The cost of this title is £15.
Please include the email address the PDF files are to be sent to.
Payment is by Paypal to raymond@raymondburley.com