Latest News
Rodrigo Guitar Trio's 2009 U.S. Tour
Monday, May 4, 2009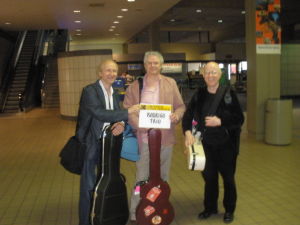 The Rodrigo Guitar Trio
has just returned from a very enjoyable and successful United States tour. The group's usual third member Cornelius Bruinsma was unable to be with us this time so the Dublin-based guitarist
John Feeley
stood in. John fitted into the group very easily and quickly made a positive contribution.
Although the trip lasted just 10 days it meant undertaking 18 flights - to New York's JFK airport, Memphis, Newport News, Evansville, Pittsburgh, Brunswick, and numerous connecting flights to Atlanta before finally returning to London's Heathrow.
The trio's concert programme consisting of
Grieg:
Three pieces,
Phillip Houghton:
Suite,
Granados:
Three Spanish dances,
Bernstein:
Suite from 'West Side Story' and
Albeniz:
Three pieces - was very well received (particularly the Bernstein) and featured about as much contrast as the trio could muster. Audiences were large and appreciative and the post-concert receptions were lavish.
Our hosts treated us to some wonderful, generous hospitality and for that we're very grateful. As always we ate and drank far too much and sampled many brands of whiskey! The temperature in Georgia was very warm and John improvised a sun hat courtesy of the score of one of Grieg's Norwegian Dances.
As always not everything ran quite to plan: an unscheduled stopover in Atlanta caused by a delayed previous flight, and a slight change of programme for the Evansville concert. The players caught the flight to Evansville (just!) but unfortunately the luggage didn't make it. One trio member - who shall remain nameless - packed the music in his suitcase so it meant him playing some items from memory, having some music emailed from England to the hotel, and each of us adding some solo items. Even more contrast! Unfortunately John Feeley's lovely Woodfield guitar was badly damaged en route from Atlanta to Evansville despite using a very sturdy flight case. Scotch tape came to the rescue. We were unable to blame Delta Airlines for John's broken thumbnail - repaired very successfully in a nail bar in Virginia.
Next year's US tour will be undertaken by the
English Guitar Duo
.
To see some photos from the tour, please
click here