Latest News
Wyres 'Raymond Burley Signature' Guitar Strings
Thursday, August 21, 2014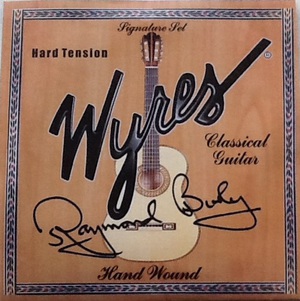 Update 2014
I've just received sets of the new Raymond Burley signature guitar strings. A few months ago I was sent prototypes of both the Normal Tension and Hard Tension sets. I found both sets to be beautifully vibrant, longer lasting than most string brands and very accurate in terms of intonation. I have absolutely no hesitation in recommending them. The strings are produced near Toronto, Canada and at the moment I'm not sure where they be obtained in the UK. I will be receiving this information very soon.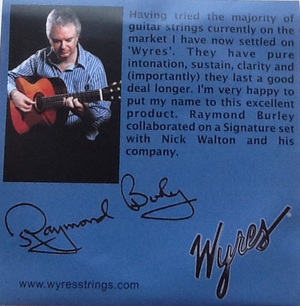 2013
I've been using the same brand and gauge of guitar strings for many years now - and been very happy with them. Recently I was sent a couple of sets of
Wyres
strings manufactured near Toronto, Canada. I suppose I was a little sceptical about a 'revolutionary guitar string' coming onto the market as so often new brands of string come and go and are soon forgotten.
A few years ago I was involved with a brand of French guitar strings which were 'flavour of the month' for a few years. I used them for a while but many players - myself included - have since moved on. Anyway, I'm very happy to report that
Wyres
have entirely lived up to their claims. They settled quickly, play beautifully in tune and are truly long-lasting. I was sent two sets: Normal (medium) Tension and Hard (high) Tension. I had been using medium gauge strings on my Woodfield so I put on the Normal Tension
Wyres
. I haven't yet had an opportunity to try the Hard Tension as the first set has gone on and on and show no signs of fading.
The company is continually experimenting with different types of nylon and bass string coatings and I'm looking forward to trying the latest versions which I should be receiving very shortly.
I urge you to give
Wyres strings
a try - I'll be very surprised if you're disappointed.